The house was built to make maximum use of the frontage and, as a consequence, the end gable is built next to a small brook which causes the house to narrow to the rear. The front has the greatest area of glazing - facing North East - making energy reduction more challenging. The orientation of the site does minimise the risk of overheating!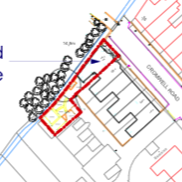 When approaching the house from the road it looks like a typical town street. However when inside it seems to be a house in the country (ignoring the view to the front). The windows on the gable overlook a fifty acre
nature reserve
. The nearest field is a Hay Meadow managed to encourage wild flowers and grazed by a small herd of White Park Cattle.
The view to the South West is over gardens - you have to look hard to see the houses 100 plus metres away.
The rural feel with the urban convenience is the reason we chose to undertake a refurbishment rather than simply move or build a new house.
Below is a view from the house over the reserve at sunset.
The view over the nature reserve from the roof.