Speeding up!
09/09/15 14:49
For the last nine days we have had a minimum of 6 workmen on site every working day (just three roofers at the weekend). The most rapid progress is on the roof.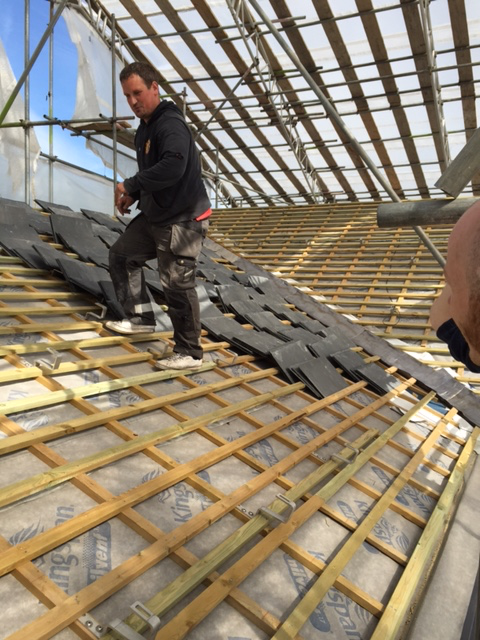 Warren only set the slates on the roof last week (above) and, despite the cursing for the lead 'socks' that had to be made up for the solar panel brackets, the rear main roof was already complete a few days later (below).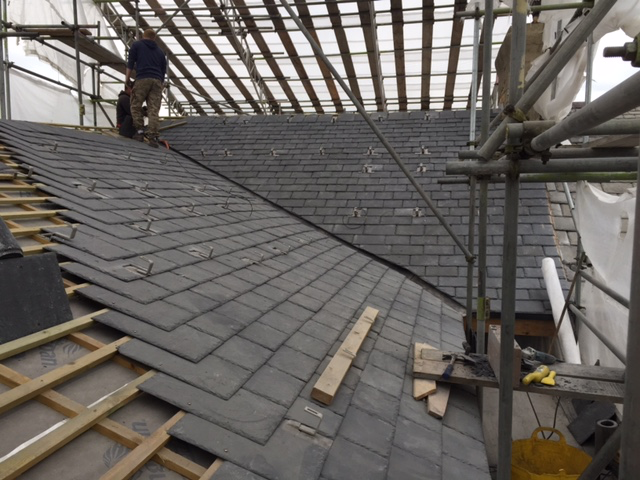 In the Basement the wall tanking membranes are being fixed and work has also started on plastering. Progress was slowed by (a) an underestimate of the amount of floor drainage channel required (the additional supply was delivered today) and (b) the failure of the core drill when it was finishing the last through the wall drain. There are several though the envelope cores to be drilled before the external insulation/render can be applied and with luck Graham should arrive next week with newly refurbished equipment. The removal of high spots on the external walls in preparation for the insulation has also taken a toll on the angle grinder and Stihl saw. Work will be intense until the windows are fitted and render applied - scheduled for early October.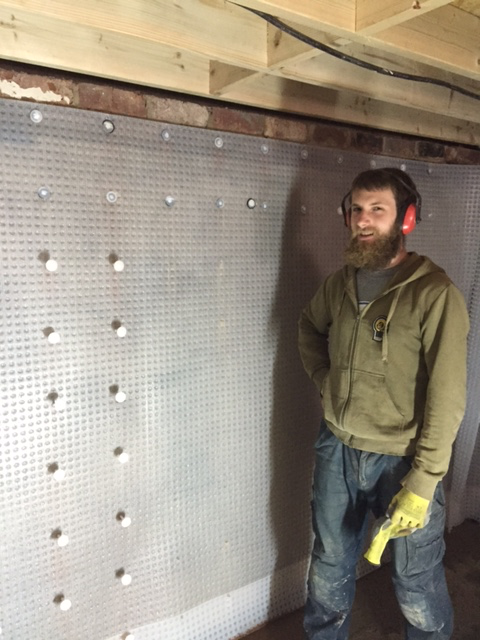 The joiners, Gideon and Harry, continue fitting the ground floor. The area under the Bay Window caused a little head scratching but this has beed resolved. The photo below shows the concrete block on the inner face of the basement wall to support the ground floor joists - insulation will fill up most of the area under the Bay.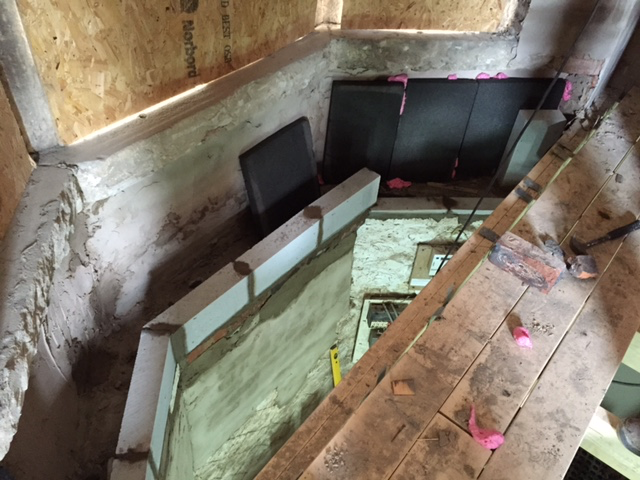 Perhaps he last house secret was revealed when working on the external wall near the Kitchen. Liam removed an Air Brick and discovered some previous builders had not bothered to remove a door when bricking up an old doorway - they simply built two brick walls on either side! The door clearly had a glazed panel complete with extractor fan - the fan has gone but everything else remains.