21/03/16 17:46
After almost a year on site Chris, Liam and Henry have handed the site back to us. The house is now in a twilight zone - it's not a building site but it isn't a house. From the outside it looks finished and includes a hand painted address courtesy of Liam's wife Nicki. The postbox is new - the old one got stolen! Note the aluminium plinth cover has still to be installed. We believe that we have achieved one of our goals -the house doesn't stand out to the passers by.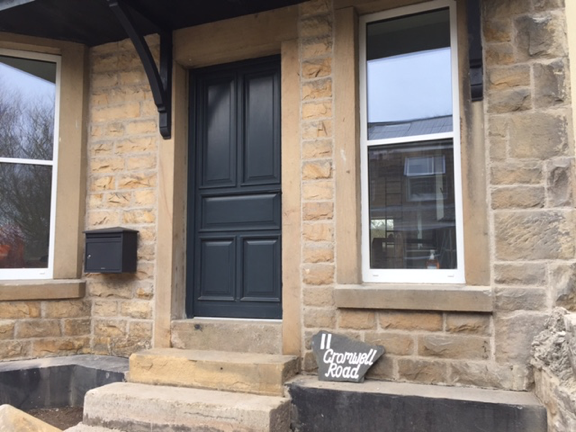 The rear and side views are different. This photo of the rear elevation is more typical Passive House - the gable is similar. The renderers (Pegasus) have done a very good job under very difficult Winter conditions.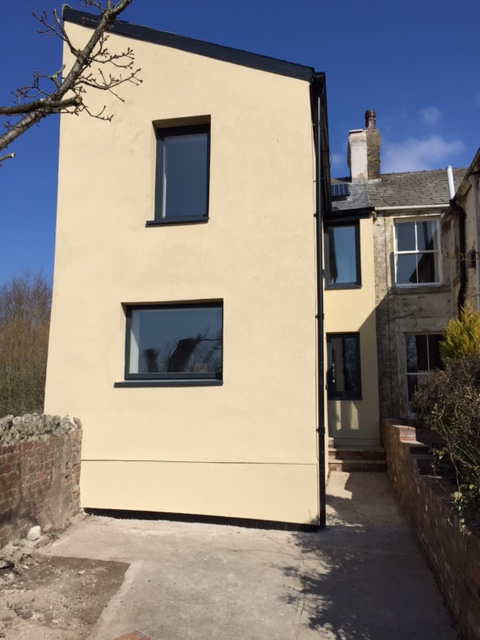 Painting is continuing, it seems endless, but we have to keep ahead of the planned dates for the installation of the stairs - a couple of days time - and the Kitchen - a couple of weeks. The latter requires the tiles to be laid so painting will be halted so we can switch to tile installation. Our plans are forced to change when 'events' happen. Last Friday
Billingtons delivered the tiles and adhesives for the en-suite in advance of their tiler arriving in a weeks time. During a quick visit to view the en-suite it was noted that we still had to install 6mm ply. Glenys and I weren't aware of this so it was an extra job we undertook yesterday. Fortunately we already had 6mm Marmoxboard that we will use to adjust the tile height in the Kitchen. We both gave the Marmoxboard our vote of approval - it's light and easy to cut and lay.
Ecohaus Internorm have been back on site to adjust windows and the back door. The latter took a long time to adjust because the door wasn't adjusted properly before it left the factory (not sure how this was missed when it was first installed). More of an issue was the discovered water ingress into three windows despite the efforts of the builders to protect all the windows from the rain. So new sets of beads have been ordered. Other builders should note to try and make sure windows are installed and the render completed by late summer.
Electricity North West have still not resolved the supply getting above 253v but I keep chasing. The Solarcache is performing well and electricity is being diverted into the Sunamp PV units. Until we get the showers, or more particularly the bath, in action it is difficult to judge the Sunamp PV units but they don't appear to lose much heat.