01/07/16 16:46
The electricians Rob and Mat returned and finished the outstanding second fix electrics - network connection, outside supply for an EV, and a socket for the supply to the washing machine/pump. All we need now is the paperwork from Rob to supply to the Building Inspector. Our main focus has been completing the Basement by installing the worktops and upstands. Thankfully our measurements were accurate and they went on very quickly. We are both pleased with the choice of stainless steel for this area. We even managed to test out the washing machine that we had delivered last November - it works.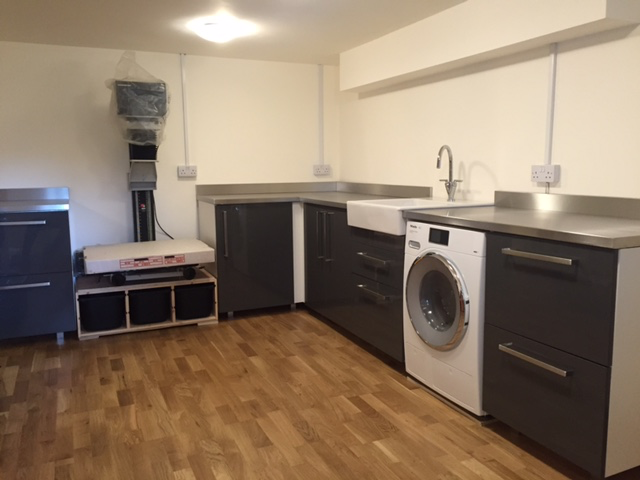 The main areas of the two bedrooms now have the wood floor laid and we will be flooring the ground floor next week. First we will tile the entrance area with the Travertine tiles that should arrive on Monday. This area is planned to be the transition from the outdoor to the indoor space. We both look forward to packing away the wet tile saw for good.
The flooring is one of the last major jobs left for Glenys and me though Nesthaus still have the plinth cover and doors to fit. Hopefully they will have completed this before before we start on the window boards - the last major job!