12/07/15 17:49
This week the Plastering team have been busy applying a Parge coat (a thin sand/cement mix) to the internal face of the masonry walls. This is to help prevent air leakage - masonry is far from free of cracks and gaps.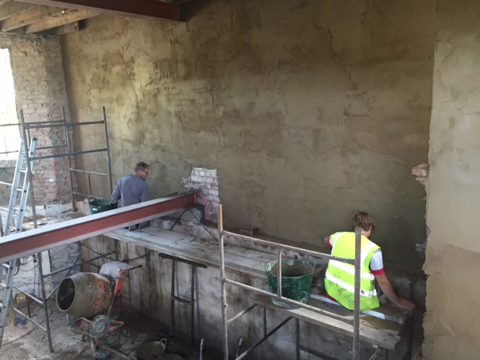 One of the first jobs the main contractor undertook was the site office (or OSB Palace). This takes advantage of the existing water and power supply. The separate toilet was the one we used in the cellar with a macerator and pump. It all easily fits on the concrete base of a former garage.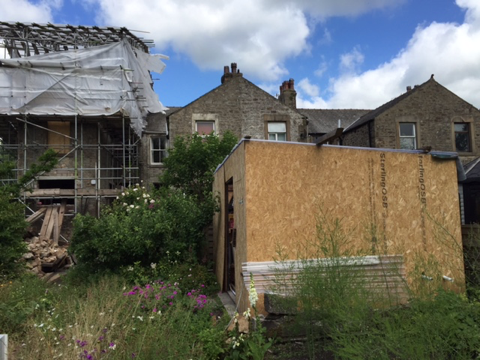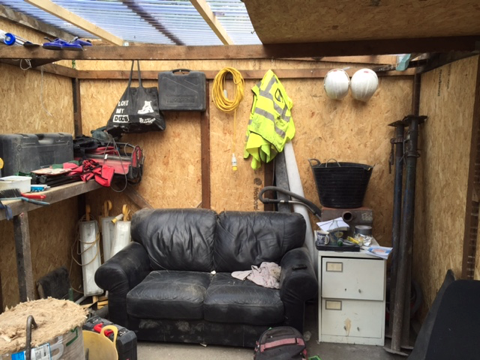 Liam found the leather settee awaiting collection by the bin men!
Chris phoned up Burlington slates to see when we might expect them - we paid for them over two months ago. Apparently they should be ready in a week or so. I will be very pleased when they finally arrive - Burlington are currently quoting a six-month lead time!
I suggest if you want to reroof in 2016 you place the order now.
04/07/15 12:10
The window survey took place on Thursday after a furious few days preparation by Liam, Chris and the team. Raising the ground floor meant we had to move most of the cills and the external insulation also forced additional changes to the positions of 3 windows and the rear door. Each change wasn't massive but they all meant time was used up and hitting the survey deadline meant longer days on site. Jon (Ecohaus Internorm) checking some details with Glenys, Chris and Liam.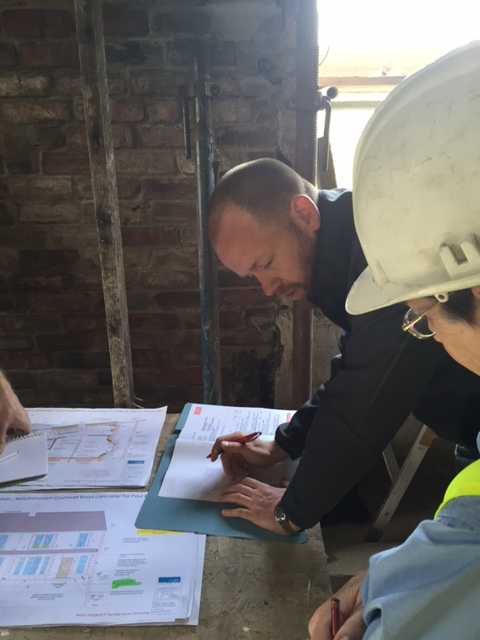 It was inevitable that some of the installation details needed rethinking on Friday but this was very efficiently handled by Jon and Andrew (Eco arc). Hopefully we can sign off the windows next week before they disappear into the Interterm system for many weeks!