08/05/15 14:48
The steel support under the Chimney Stack is now in place and the Chimney Breasts are now removed to ground level.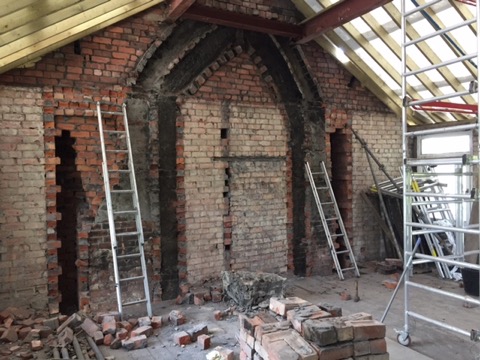 Two surprises were the 'Priest holes' within both Chimney Breasts at First Floor level and the temporary door that the original builders had through the Party Wall (you can see the wood lintel in the centre of the photo above). The 'Priest holes' are additional cavities within the Chimney Breast and the builders speculate that these were added to provide additional structural support.
At some point the cement render (seen below) will be chipped off. So outside work is starting on preventing material entering the Brook that runs alongside the end wall.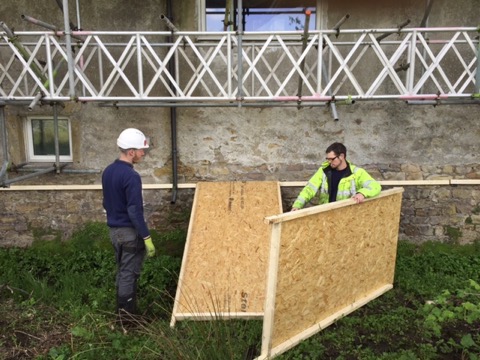 The last steels have now arrived on site and will be installed next week. After adding the 'felt' (Nilvent), roof work has now stopped until the arrival of the new Burlington Slates - costing much more per square metre than the oak flooring! When they arrive the (random random) slates, for the main roof, need to be sorted and then have holes drilled for the two copper nails that fix each one. Sorting the slates is expected to take two full days.
The high winds and heavy rain at the start of May proved the worth of the tenting - although a little rain got through the site kept dry and work could continue in reasonable comfort. This avoided lost time when the site would have been simply too dangerous to continue with the demolition work.