Old house surprise
03/08/15 15:15
Work continues at the rate determined by availability of materials and tradesmen. Sticking to an initial programme seems challenging. In reality all the trades are juggling their workloads across many jobs simultaneously because you simply can't predict when a shortage of materials may strike which will mean rearranging jobs so that income can continue to be earned. At least in our case the slates have 'arrived'. We haven't actually seen them because since space is unavailable on site. Warren (the slater) will bring them to site as required. He battened the rear roof over the Weekend so Sundog can now fit the solar PV support brackets.
Last week Henry worked on cutting the vertical down stands in the Kitchen for the perimeter extruded polystyrene. (This is to help mitigate the Thermal Bridge cause by heat on the interior face of the external wall working its way downwards. Ideally we would have removed a course of masonry and inserted a Foamglass barrier but the returns were not worth it.) His job became easier when he reached that part of the Kitchen that used to be accessed from outside. This old floor is 500mm lower than the floor levelling the remaining part of the Kitchen and since the vertical depth of this insulation is 500mm it means that the old floor does not need to be dug out. An additional bonus is the loose brick that had been used as infill. You can even see the old black and white tiles that were used in this area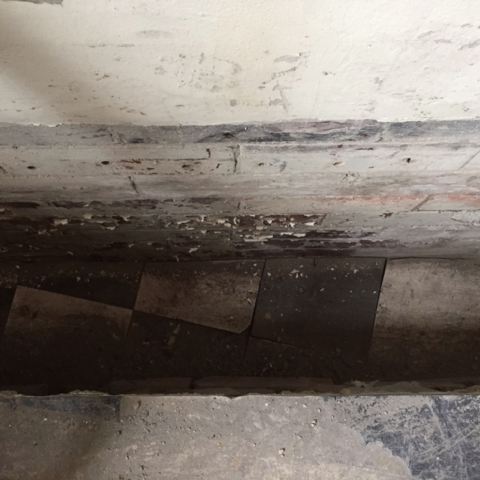 Work on 'tanking' the basement and fitting the ground floor are scheduled to commence this week. Materials for these jobs arrived last week (apart from the polystrene for the edge up stands!). The Sovereign materials and Foamglas are in the photo below.