Glenys in cold water?
18/10/15 16:21
The external insulation didn't happen last week but we are hopeful it will start this week. The solar pv panels have also not been fitted because Sundog need the radial circuit installed to the inverter so they can complete all their work in one visit. Given how much work pressure they must be under with the proposed reduction in feed in tariffs I can understand their position.
Work did continue. Gideon (the joiner) was in his element fitting the ceiling joists these are now all installed so the vapour board can now be installed below them which will then permit the stud walls to be fitted.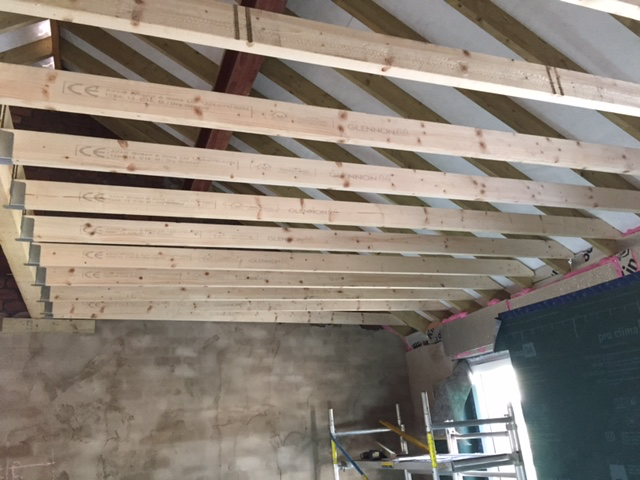 The plasterers have been on site for the last six days and have started on the gable wall. This has proved to be not vertical and not flat so is taking many bags to prepare for the skim coat.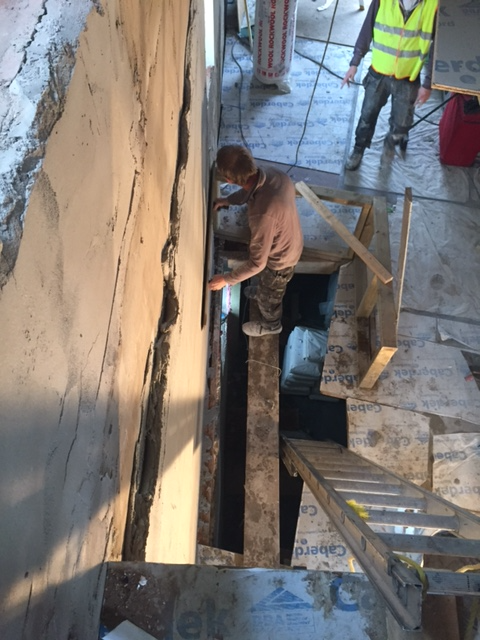 You can see from the photo above that more than the assumed 15mm has been applied to the side of the stairwell. This will require adjustments to the stair widths already supplied to Stairs and More. Having a house with no real reference points to measure from is frustrating.
A warning to anyone planning a new build or attempting a renovation than involves changing the plumbing system - make sure you calculate your demand for hot water rather than simply assume everything will be OK.
Look at the new page on Hot Water