We need floor space!
19/08/15 15:47
Progress continues and the vertical insulation 'downstands' around the Kitchen and Basement have now been dug out and filled with 200mm wide EPS. The plans show 80mm wide EPS in the basement and 100mm wide EPS in the Kitchen but the builders needed the 200mm width in order to get their hands in the space to undertake the extraction of material.
The ground floor started to be installed last week - the intention was to secure the Caberdek and then have a platform to work from or store material. The floor build up though required consultation with the architect because what was drawn wasn't sufficiently detailed (resolved today). This meant a temporary OSB floor was laid to facilitate storage/access. The problem with this approach is that any material will then have the be moved elsewhere to lay the permanent Caberdek.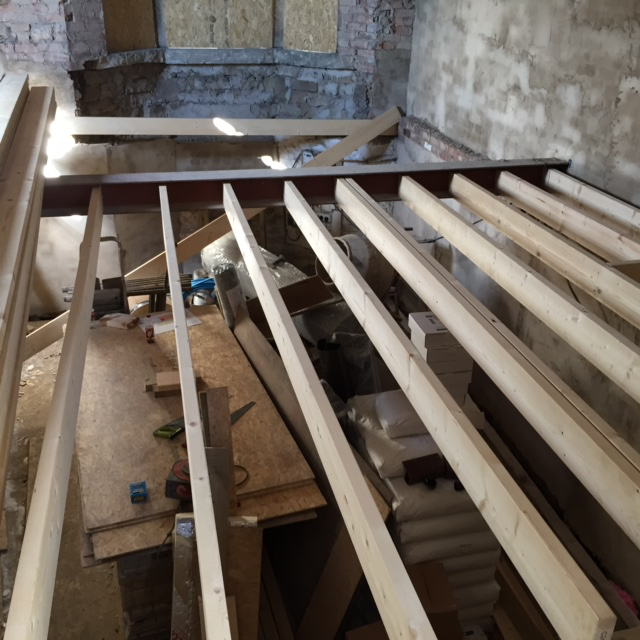 It hadn't been down for long before material started arriving. Of course this material is bulky and/or fragile. In the photo below the EPS, Kingspan framing board and Vacuum Insulation Panels (VIPS) are filling almost half the main ground floor. The VIPS arrived around 16.10 last Friday when Chris had left the site. I received a phone call a few minutes later to take delivery (we guessed it was the VIPS). We arrived on-site to find 4 pallets of VIPS in front of the house to move to a secure location. Chris was by now on the way back to site from Manchester and Glenys and I started moving the smaller panels to our shed. After an hour Chris arrived back to open up the house so we could use cleaned and protected floor space. We managed to complete this task by around 19.40!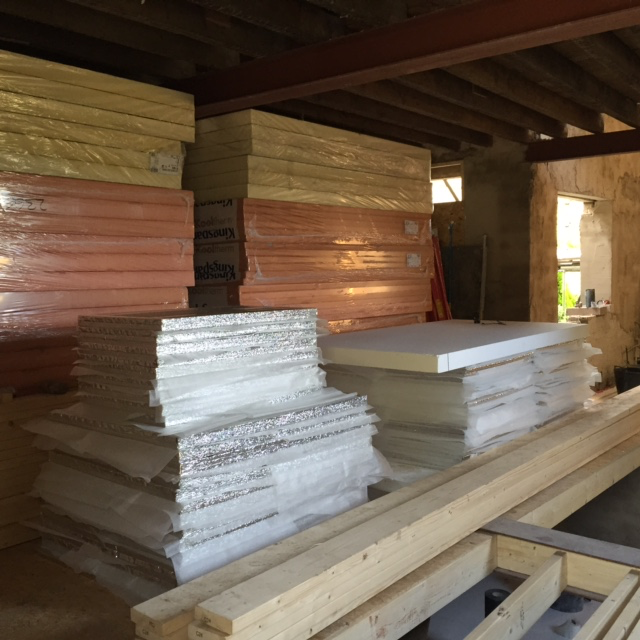 Chris says that planning would be so much easier if the 'off the shelf' items were really 'off the shelf' and the long lead items were really long lead time!