Winter approaches
08/11/15 15:55
The last week has been wet and windy and this weather is likely to continue into next week. Just in time for Pegasus to arrive and commence the external insulation. With the benefit of sheathing they managed to almost finish fixing the insulation to the gable wall. They still have to manage the window detailing before the render can be applied. Since the render needs dry weather I am not expecting this to be achieved next week. The window sills can at least be fixed though.
On the front elevation Dean (the Stonemason) has refurbished damaged stone cills and is now preparing to repoint. At least half of this area is sheltered from the rain and the hydraulic lime loves the high humidity so something should be achieved next week.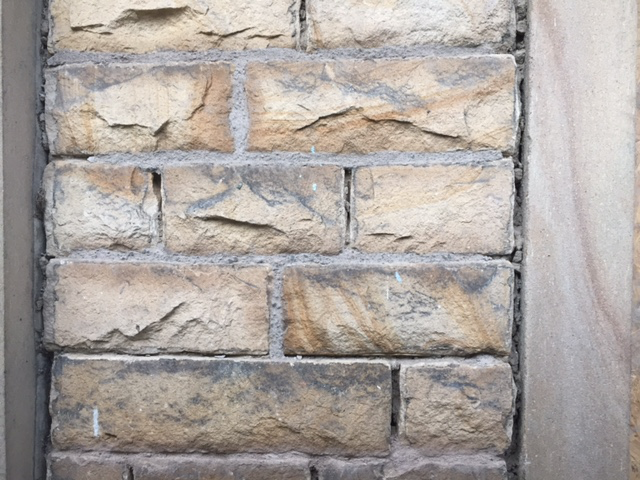 The experts amongst you will be able to discern the differences between the different mortar mix samples in the photo above - there are four mixes. The bottom one is builders sand and lime with no aggregate. The three at the top have white sand and aggregate in addition. We have chosen the second from the top as the best match to the original. As the client it is amazing the variety of decisions you are required to make - usually with severe time pressure.
We were planning to use linoleum on the floor of the Basement as well as the Bathroom but this might not happen. The flooring person came around last week to measure up and thinks the adhesive will only work with plywood as it reacts with many other wood based products. We briefly thought 8mm ply could be used instead of laminate but worry movement along the joints will destroy both the linoleum and the vacuum Insulation panels below (3mm of foam not withstanding). We are now thinking of just finishing with a 10mm engineered wood floor with a locking joint. This would simplify the floor build up and probably save money.