Progress
25/09/15 15:58
The builders are now working hard to get ready for the installation of the windows in 9 days time (by Ecohaus Internorm) with the Permarock external insulation (by Pegasus) a few days after that. The builders still have to cut away sections of three walls to accommodate the 300mm EPS and render coat. They also have to make good the levels of the 4 wall faces that are to receive the Permarock system. This involves applying copious quantities of an 8:1 sand-cement mix. This photo shows the first coat being applied to the gable wall. The timber sheeting at the bottom of the photo serves two purposes. Firstly it prevents material falling into the brook and also prevents the renderer Dean from having to work in the water. The timber is really a raft floating on the rather hidden, muddy brook.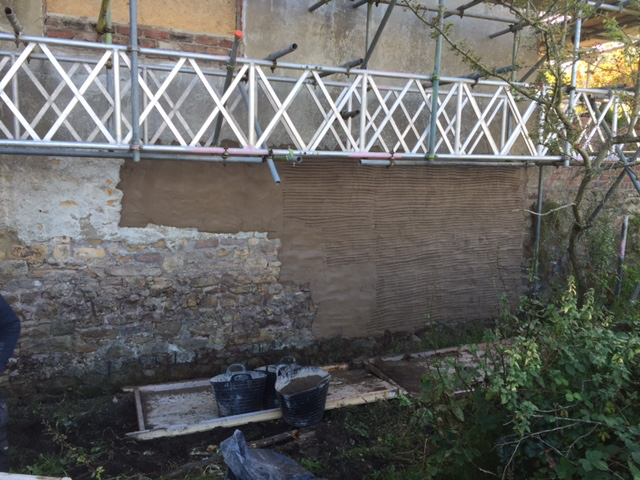 For the windows there still remains a few finishing touches. The biggest remaining task is to make sure we have a kitchen finished floor level to allow Internorm to fit the back door at the correct height.
The first floor is now in position and this greatly extends the available storage space. This is further helped by the installation of some of the Vacuum Insulation Panels on the Kitchen face of the Basement.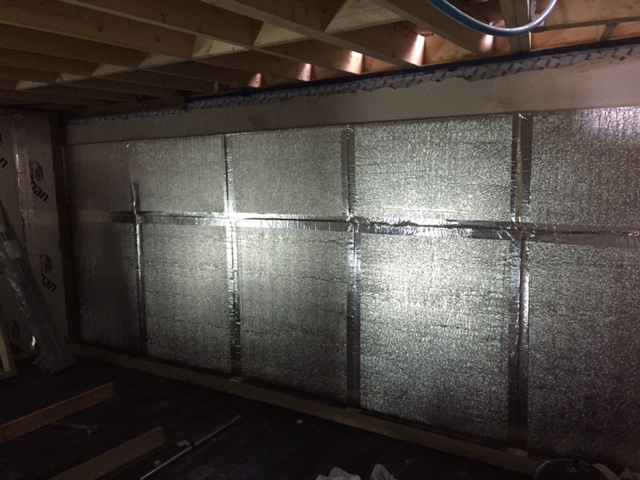 They look very shiny and the wrinkled look shows the vacuum is intact - only one failure found so far!
We are currently awaiting the scaffolders to remove the roof tenting and to adjust the scaffold to permit the external insulation to be fitted. The roofers also need it adjusting in order to complete slating the rear roof. In practice the roof tent has proved to be really effective in keeping the site dry and we are both glad we had this done.